SGH students win global online marketing competition
14.10.2022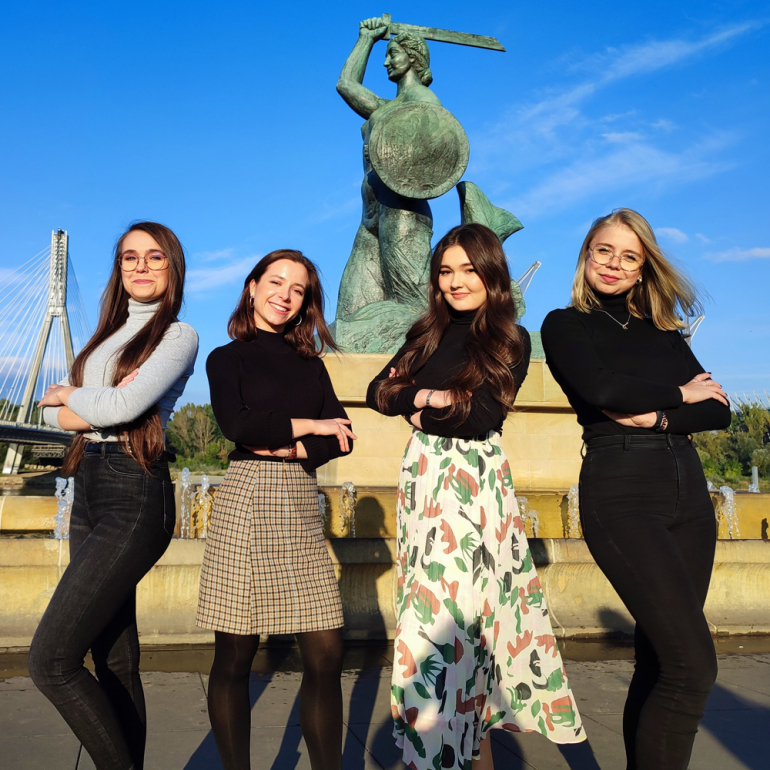 This year's edition of the Global Online Marketing Academic Challenge (GOMAC) has been won by a team of female students from the SGH Warsaw School of Economics and Cardinal Stefan Wyszyński University (UKSW).
Joanna Alberska and Paulina Figarska study e-business and Patrycja Polak studies management at SGH. Dorota Trochimiak, the fourth member of the team, is a student of journalism and social communication at UKSW. The team was supervised by Tymoteusz Doligalski, PhD, from the Institute of Information Systems and Digital Economy at SGH. The team developed a campaign for DEVMATCH, a Polish start-up in the sector of flexible recruitment in IT. The campaign ran for five weeks and included activities on Google Ads and social media, as well as the creation and distribution of marketing content.
GOMAC is a global competition for students interested in online marketing. Working with an industry client, teams compete in creating optimised promotional campaigns and reporting their performance, using Google Ads, as well as other e-marketing tools. This year, 108 teams from all over the world took part in the competition. The ranking of teams and reports on the winning campaigns are presented on the website: https://www.gomachallenge.com/2022-gomac-winners/.
The GOMAC competition was created by academic researchers after Google had ceased organising a GOMC competition which had a similar profile. In the GOMC competition, students from SGH were global winners twice – in 2012 and 2014 – and were the best in Europe on three occasions. No other university on our continent has such a winning track record.
The GOMAC competition proved to be a challenging, yet highly developing adventure. All members of our team were given the opportunity not only to take advantage of their diverse, hands-on skills in online marketing (such as content creation, analytics, and Google Ads campaign support) but also to learn completely new skills (such as running an innovative Performance Max campaign or conducting in-depth interviews with the target group). An additional challenge (and, we believe, also a bonus of this campaign) was the niche industry it was targeting and an almost total lack of previous marketing activities, and therefore absence of data on which the team could rely. This required us to be very creative and run a special preparation phase, and this makes us all the more proud of our achievement and the fact that our tremendous work has been recognised by the competition jury – says Joanna Alberska (team leader).
In the opinion of Tymoteusz Doligalski, PhD, the competencies of SGH students match the requirements of the GOMAC competition, as well as the previous GOMC competition. In both these competitions, the ability to think analytically, knowledge of e-marketing tools, understanding of consumer behaviour and effective communication of the results achieved – all were factors contributing to the victories. Important factors were also soft skills, such as organising teamwork and decision-making under stress. Thus, participating in the competition requires a practical synthesis of skills and knowledge from many areas of economic sciences.
Online marketing is offered at SGH at many levels of education: at master's level in e business, as well as at two postgraduate programmes: Internet Marketing and Marketing Communication on the Internet.