SGH establishes cooperation with Vasyl' Stus Donetsk National University
14.10.2022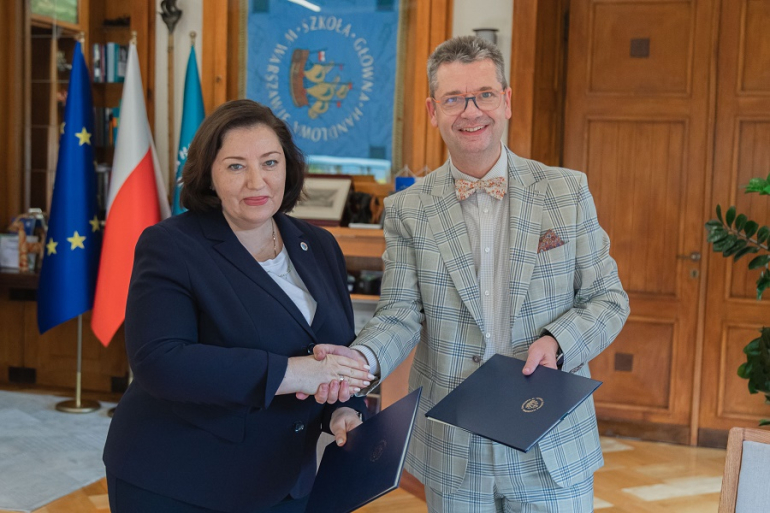 On 28 September 2022, Rector of the SGH Warsaw School of Economics Piotr Wachowiak met with Tetyana Nahorniak, Professor, Senior Vice-Rector of Vasyl' Stus Donetsk National University (DonNU). The meeting was also attended by Anna Osmołowska, PhD, Director of the Academic Potential Development Institute; Katarzyna Kacperczyk, Director of the SGH International Cooperation Centre; and Iryna Degtyarova, PhD, Rector's Representative for cooperation with Ukrainian universities.
The Rectors signed a Memorandum of Understanding (MoU), setting out strategic directions for cooperation and a student exchange agreement to intensify student mobility between the universities.
Rector Piotr Wachowiak presented the wide range of activities to support Ukraine pursued by SGH in recent months. Strengthening cooperation with Ukrainian universities is a key element of this support.
The partnership with DonNU is extremely important for the academic communities of both universities, especially in terms of the exchange of teaching and scientifc experiences. Moreover, it also fits in with strengthening the social role of universities in their environment. At the meeting, the parties discussed the possibility of organizing joint workshops, conferences and seminars. The rebuilding of Ukraine is a significant area of cooperation. SGH has traditionally had a great experience in this area and can be an important partner for experts from Ukrainian universities.
During their two-day visit to SGH, on 27 September, the DonNU delegation met with Jakub Karnowski, PhD, as well as with students and doctoral students from the "Rebuild Ukraine" Student Research Club, to whom our Ukrainian guests gave a presentation on the experience of organising student education during the war in Ukraine in the years 2014-2022.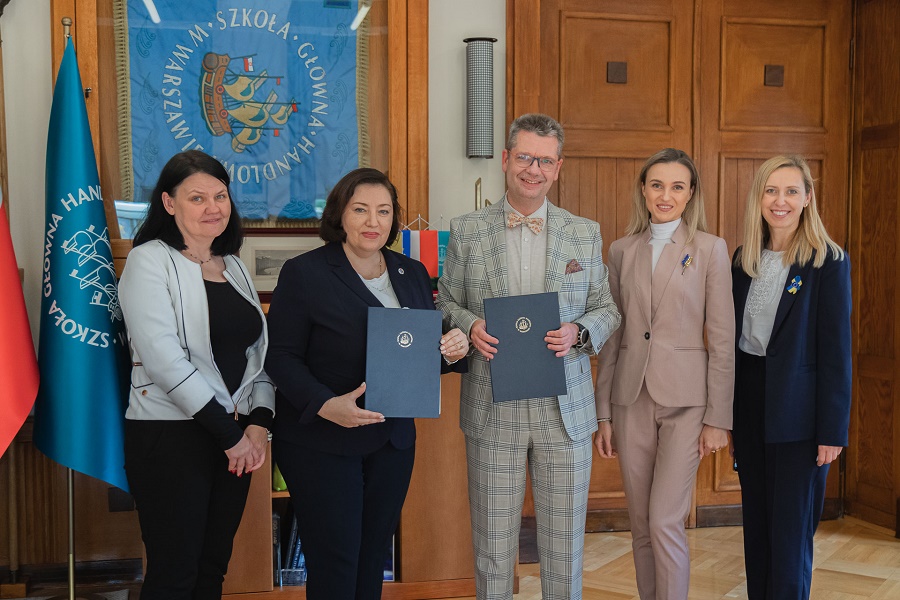 After Ukraine gained independence, the university was renamed the National University of Donetsk in 2010. During the war in Donbas, pro-Russian separatists were active at the university, occupying dormitories and administrative buildings. Ukrainian authorities decided to relocate the university from Donetsk to Vinnytsia on 30 September 2014. The university took the name of Ukrainian poet Vasyl Stus on 21 September 2016.
DonNU is one of the best public universities in Ukraine, providing a high level of education and research, particularly in social sciences and humanities, including the fields of economics, political sciences and public administration. The University is also launching interdisciplinary programmes on crisis management and the management of territories where conflict has taken place, as well as programmes to support war veterans. The experience of DonNU operating under wartime conditions, relocating the university and rebuilding its potential in a new location is very valuable.