Documentary film "President from SGH"
30.12.2022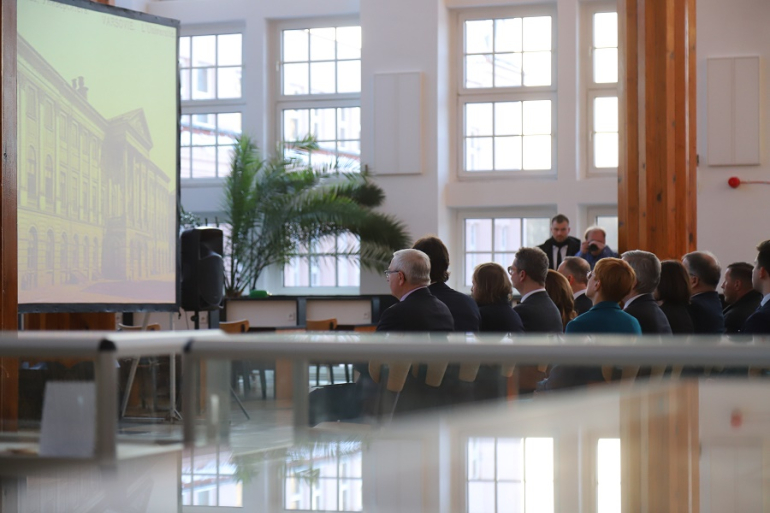 On the occasion of the 100th anniversary of the  assumption of the office of President of the Republic of Poland by Stanisław Wojciechowski, who taught at the Higher School of Commerce (later the SGH Warsaw School of Economics) from 1919 to 1939, a 25-minute documentary film "President from the SGH" was prepared. The title role is played by Olgierd Łukaszewicz.
This short film, directed by Jacek Knopp and Mariusz Sielski, is an attempt to create a multidimensional portrait of Stanisław Wojciechowski – conspiratorial activist, father of Polish independence, statesman, minister for the interior, typesetter, lecturer, scientist, cooperative activist and theoretician, as well as head of the family, but above all, a steadfast man for whom truth, honesty, cooperation, respect and reliability are superior values.
In the name of these principles, President Stanisław Wojciechowski remained faithful to the Constitution and, in the wake of the May Coup, stepped down in 1926, refusing his proposed collaboration with the Nazis or the firming of communist rule in the "Społem" and Polish Socialist Party (PPS) he founded at the beginning of the century.
The film uses newsreels from the 1920s (silent cinema), rich iconography from the collections of the Grabski (Wojciechowski) Family, as well as contemporary footage from places associated with President Wojciechowski – primarily the SGH. In the layer where Stanisław Wojciechowski's speeches and writings are quoted, there are fictionalised fragments. The voice and image of Stanisław Wojciechowski was lent honourably by one of the greatest masters of Polish cinema and stage, Olgierd Łukaszewicz.
People who worked on the film include: Anna Domalewska (production manager), Mariusz Sielski (script and direction), Jacek Knopp (direction, cameraman, editing), Jerzy Łazor, Ph.D. (historical consultation).
The filmmakers thank the National Film Archive (d. WFDiF), the Seym Library, the SGH Archives, the SGH Library, and Ms. Deputy Marshal of the Sejm Małgorzata Kidawa-Błońska for their assistance in the project.