Not waiting for a 'room with a view'
30.01.2019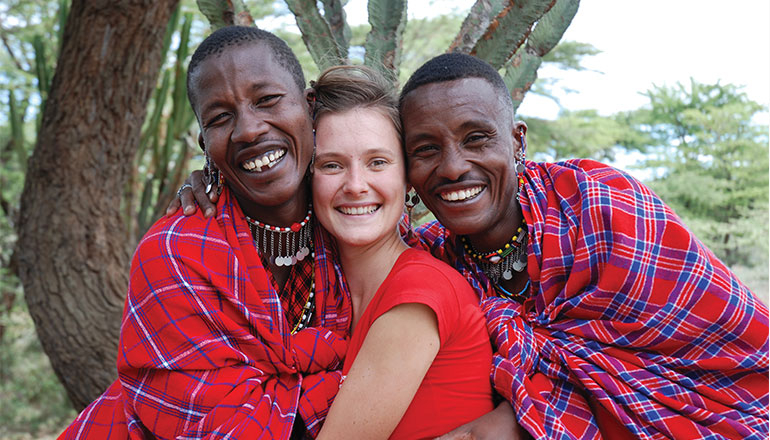 ENTREPRENEURSHIP IS AN AMAZING TOOL TO MAKE THE WORLD A BETTER PLACE - MARTA MIŁKOWSKA.
Her fascination with Africa prompted her to undertake African studies, but she also chose international business at SGH to learn how the world works. And she perfectly combined knowledge with the skills acquired in both these fields.
She worked at the UN and the World Bank in Africa and Asia, helping the poorest. Today, she is exploring new technologies and entrepreneurship in California.

SHE DREAMT OF AFRICA IN ZIELONA GÓRA
Her energy and willingness to do good seem to be not only renewable but also inexhaustible. She learned the best patterns to act for the benefit of others from home in Zielona Góra. Her father, an entrepreneur and an owner of a forwarding company, always helped the local community. Her parents encouraged her to learn and acquire new experiences, although perhaps they did not expect that thanks to this encouragement, their daughter would go so far into the world.
Marta was involved in charity campaigns and volunteering for the Polish Red Cross from an early age. Much of the knowledge on Africa which needed help was provided to her by missionary priests from Ethiopia in the church at the Zacisze estate. Then she began to dream of going to Africa. I 'learned' Africa by reading Kapuściński - Miłkowska recalls with amusement - but I absorbed every book about this continent that I came across. A dozen or so years later Marta built a school for 600 children in Kenya...

GREEN HILLS OF AFRICA. KENIA AT FIRST
As she claims, she chose African studies as a hobby, the studies at the SGH Warsaw School of Economics were to provide the foundation for her future activities. She began to speak Swahili, she studied anthropology, ethnography and also deepened practical knowledge about the realities of life in Africa.
However, she acquired specific skills at SGH: international team management, business start-ups, development economy with her 'favorite' professor Szostak.
She was able to get an internship at the Polish embassy in Kenya thanks to her SGH studies. She fell in love with Africa and probably vice versa.
After finishing the apprenticeship, she visited Kenya and Tanzania with delight. She met Salaton Ole Ntutu, a Maasai leader and a socially engaged entrepreneur. He ran a campsite in a Maasai village, Maji Moto, 30 km from the Maasai Mara National Reserve. He allocated his income for providing help to girls and widows treated with extreme cruelty there and to other Maasai people in need. - Salaton could not read or write and never attended school. However, many entrepreneurs could envy him his business sense - recalls Marta Miłkowska.
The meeting resulted in fantastic cooperation: Marta created a website advertising Salaton's tourist services which increased the income allocated to the local community.
She also came up with two simple businesses that improved the situation of Maasai widows. Widows began to sell handmade Maasai jewelry to foreign tourists. They also got a solar battery, due to which they could launch a mobile phone charging center. Earlier, it was necessary to travel to a distant city. Therefore, women gained money and improved their social position because their business was needed by all residents. Simple? Perhaps. However, no one had come up with such an idea before Marta Majkowska appeared in Maji Moto.

A SCHOOL UNDER A BAOBAB
There was no school for Maasai people in southern Kenya. After returning from Kenya, Marta established cooperation with several domestic and foreign organisations to build it. She found the Simba Friends foundation, which agreed to take the project under its wing. It was possible to obtain money from the Ministry of Foreign Affairs, from companies and foreign sponsors. The amount raised reached nearly half a million zlotys. 20 people travelled from Poland to Maasai Mara where several dozen Kenyans participated in erecting the school building. The Poles lived in the savannah, in sand and clay houses, without water and - at first - without electricity. And yet the school was built! Marta Miłkowska was then 23 years old.

FAREWELL TO AFRICA. WELCOME TO NY
Malaria twice, amoeba infection and a mysterious infection that she brought from her stay in Africa in 2008 and which almost killed her - it was a (temporary) farewell to the continent she loved so much. She couldn't risk another serious illness. In addition, on completing her studies, she decided to move from local to global business. She decided to apply to the United Nations Organisation for practice. It was not easy. She sent 110 applications. She got two positive answers: she could go to Bonn or New York. She chose the latter. She was to be in the US for two months, she stayed for 7 years.

WASHINGTON BEHIND THE OPEN DOOR, TO A CAREER
If they close the door in your face, come in through the window - she learned that when she came to the USA.
- 'I had thirty-six interviews before I got accepted at the World Bank,' she recalls. - The United States taught me that it's not worth giving up.
To say she works hard is to say nothing. She started at the World Bank early in the morning, often at home, and worked in the office until evening. If it was time for lunch, she could eat it in the park in front of the White House near her office. However, it didn't happen very often.

A WOMAN WITH A MISSION
Today, Marta fights poverty by using innovation and social entrepreneurship. She focuses on fundamental issues, which, from the European point of view are banal ones: health, education, energy, access to sanitation...
Modern technologies can make a real breakthrough in the living conditions of poor people in Africa and Asia. For example, applications on phones allow the provision of health services for the poor or pregnant women. The World Bank gave grants to local social entrepreneurs who implemented such innovations in India, Egypt and Liberia. Marta knows that in addition to technological and business solutions, there is also a need to exploit achievements of behavioral economics. She is convinced that such holistic innovations will improve the existence quality of people who live for less than a dollar a day today. Solar battery in Kenya was a good start!
Marta's room in the World Bank office did not have windows – such a location can be afforded by employees with more or less 10 years of experience. Marta calculated that it would still take her about seven years. But before that, it's time to embark on another journey - this time it is towards the Silicon Valley.

AN ETERNAL STUDENT
A year and a half ago, Marta returned to school, this time in Boston and California. While studying new technologies and doing an MBA programme at Stanford, she checks what ideas can be implemented. A year ago, she founded a startup connecting refugees with work via the Internet and became a finalist of the Hult international social entrepreneurship competition. Awards were handed out by President Clinton himself (during the General Assembly of the United Nations Organisation in New York). Now she is working with mentors from the Silicon Valley on two ideas - an application facilitating 'virtual medical care' – provided especially to pregnant women - and technology that helps people with low income manage their savings. 'I want to learn from the best what innovations can be used to make our world a little easier. For those who need it the most, 'says Marta.
Marta found a little of SGH Warsaw School of Economics in California. - There are such days when I simply have to talk to a Polish friend. Then I call Tereska, who lives a few kilometers nearby. We met a hundred years ago at Students Self-government. Of course, it was at SGH Warsaw School of Economics.
since 2017 – currently
Master of Business Administration (MBA), Stanford University Graduate School of Business
2011-2016 World Bank
Private Sector Development Specialist, World Bank Innovation Lab (2014-2016)
since 2016 – currently
Master of Public Administration (MPA), Behavior Science and Innovation in Service Delivery, Harvard University, John F. Kennedy School of Government
2011 United Nations
2011 International Business
SGH Warsaw School of Economics
2010 Master's in International Management
CEMS – The Global Alliance in Management Education