Exhibition at the SGH Library on the occasion of the 100th anniversary of Stanisław Wojciechowski becoming President of the Republic of Poland
30.12.2022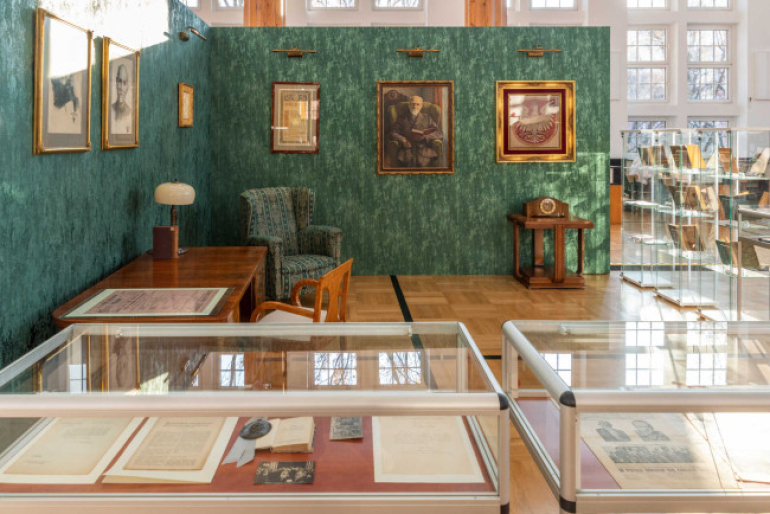 On 14 December 2022, a temporary exhibition was opened at the Library of the SGH Warsaw School of Economics on the occasion of the 100th anniversary of the assumption of the office of President of the Republic of Poland by Stanisław Wojciechowski, a professor at SGH. The exhibition runs until 22nd December, 10:00 am.
The central part of the exhibition is occupied by a reconstruction of Stanisław Wojciechowski's study with an armchair where he used to indulge in reading the press and books. Hanging on the walls are paintings and drawings from the private collection of Deputy Marshal of the Sejm Małgorzata Kidawa-Błońska, the president's great-granddaughter, depicting Stanisław Wojciechowski and his wife, Maria, by the president's daughter Zofia Grabska. In the study, there is the said original armchair-bow of President Wojciechowski, a banner with Poland's emblem and the text of the address delivered on 20 December 1922. The cane leaning against the seat belonged to Prime Minister Władysław Grabski, the second great-grandfather of Małgorzata Kidawa-Błońska; for a time it was also used by Stanisław Wojciechowski.
The desk, armchair, table, clock and lamp are art déco furniture and objects from the collection of the SGH Library.
The showcases include photographs, documents, Stanisław Wojciechowski's personal portfolio from the SGH archives, caricatures, books, memoirs and articles by him, magazines, postcards and official documents from the 19th century, as well as from the 1920s and 1930s.  These artefacts come from the Seym Library, the Grabski (Wojciechowski) Family Archives, the SGH Library and the SGH Archives.
The exhibition is located in the General Reading Room in the SGH Library. The exhibition is open until 22 December 2022 (Monday through Friday from 8:30 am to 8:00 pm, Saturday and Sunday from 10:00 am to 6:00 pm); 19 December from 4:00 pm to 8:00 pm.
The exhibition was organised courtesy of Deputy Marshal of the Sejm Małgorzata Kidawa-Błońska, SGH Library Director Hanna Długołęcka, SGH Archives Manager Małgorzata Buzak and Deputy Director of the Sejm Library Błażej Popławski.