Prezydent RP nadał dr. hab. Michałowi Jackowi Rubaszkowi tytuł profesora
29.06.2022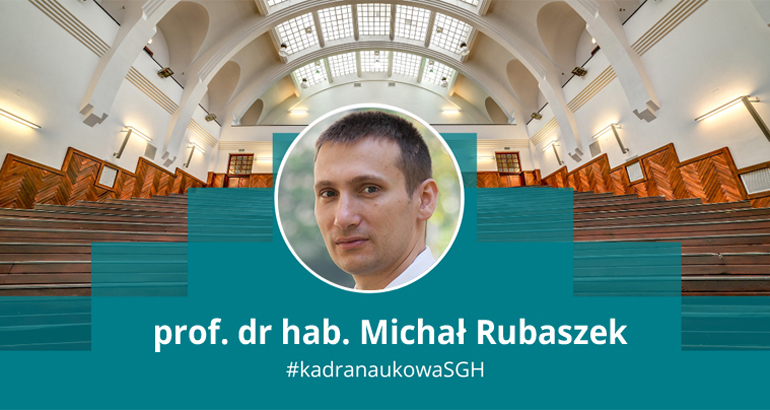 Postanowieniem z dnia  1 czerwca 2022 r. prezydent RP Andrzej Duda nadał dr. hab. Michałowi Jackowi Rubaszkowi tytuł profesora nauk społecznych w dyscyplinie ekonomia i finanse.
Michał Rubaszek jest kierownikiem Zakładu Modelowania Rynków Finansowych, w Instytucie Ekonometrii, Kolegium Analiz Ekonomicznych SGH.
Główne obszary badawcze dotyczą prognozowania makroekonomicznego, modelowania rynków walutowych i surowcowych czy funkcjonowania mieszkaniowego rynku najmu. Stopień doktora habilitowanego Michał Rubaszek uzyskał za jednotematyczny cykl publikacji pt. "Badania nad przydatnością modeli równowagi ogólnej we wnioskowaniu na temat zależności makroekonomicznych".
Autor ponad 30 publikacji w czasopismach indeksowanych w Journal Citation Reports (aktualny spis dostępny jest na stronie). Kierownik grantów NCN Opus pt. "Dynamika gazu ziemnego w kontekście transformacji sektora energetycznego" (2021-2023), "Prognozowanie kursów walutowych" (2020-2022), "Prognozowanie cen surowców" (2018-2020) oraz "Przyczyny i skutki nieefektywności prywatnego rynku wynajmu mieszkań w Polsce" (2015-2017) oraz główny wykonawca grantu NCN SONATA BIS pt. "Rozwój metod prognozowania makroekonomicznego z wykorzystaniem modeli klasy DSGE" (2013-2016). Członek redakcji czasopism "International Journal of Finance & Economics" (od 2022 r.), "Baltic Journal of Economics" (od 2021 r.), "Econometric Research in Finance" (od 2016 r.) oraz "Bank i Kredyt" (2009-2017).  
Laureat konkursów Lider SGH w kategorii nauka (2022 r.) oraz Inspiracja roku w kategorii studia magisterskie (2020 r.). Oprócz pracy na uczelni, Michał Rubaszek posiada wieloletnie doświadczenie w bankowości centralnej, zdobyte w Narodowym Banku Polskim oraz Europejskim Banku Centralnym.