CEC Warsaw Course Week
22.06.2021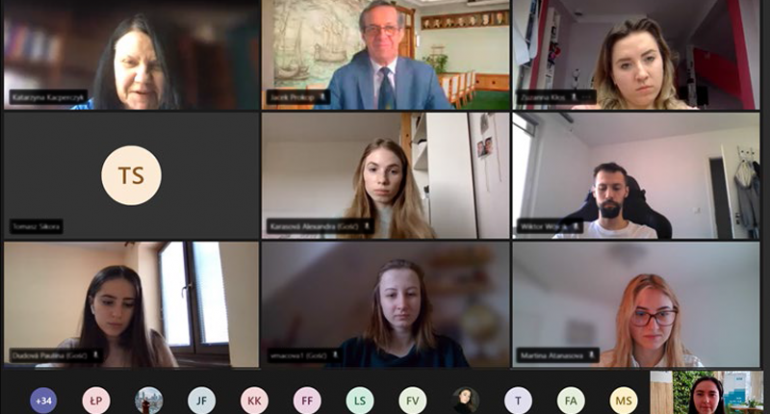 Piąta edycja programu Central Europe Connect
W ramach piątej edycji programu Central Europe Connect, realizowanego wspólnie z Vienna University of Economics and Business (WU) z Austrii i University of Economics in Bratislava (EUBA) ze Słowacji, został zorganizowany CEC Warsaw Course Week.
Program CEC jest adresowany do studentów studiów licencjackich, zainteresowanych tematyką biznesu w Europie Środkowej. Składają się na niego trzy tygodniowe bloki przedmiotowe, z których każdy odbywa się w innej uczelni partnerskiej. Co roku są przeprowadzane dwie edycje: wiosenna i jesienna.
Z powodu pandemii COVID-19 wszystkie trzy tygodniowe bloki wiosennej edycji programu zostały zrealizowane wirtualnie, przy wykorzystaniu platformy MS Teams.
Organizowana przez SGH polska część programu, CEC Warsaw Course Week, odbyła się w dniach 12–17 kwietnia 2021 r. W bloku zajęć "Marketing Resources and Consumer Behavior in Central Europe", prowadzonych przez prof. Tomasza Sikorę, uczestniczyło 49 studentów trzech uczelni. Blok został podzielony na części wykładową i praktyczną, w której studenci pracowali w kilkuosobowych międzykulturowych grupach projektowych, wspólnie przeprowadzając badanie na temat etnocentryzmu konsumenckiego. W ramach pracy grupowej uczestnicy opracowali narzędzie badawcze w postaci kwestionariusza, zebrali dane oraz dokonali ich analizy. Rezultatem tej pracy były prezentacje, przedstawione na koniec Warsaw Course Week.
Nieodłącznym punktem każdej części tygodniowego programu jest wizyta w firmie lub instytucji. Tym razem studenci spotkali się z przedstawicielami firm Coca-Cola HBC oraz Hilti, co pozwoliło im zapoznać się z doświadczeniem praktyków biznesu. Dodatkowo dla osób uczestniczących w kursie zorganizowano wirtualną wycieczkę po Warszawie.
Mimo iż program został zrealizowany w formie wirtualnej, pozwolił uczestnikom nie tylko zdobyć wiedzę z zakresu biznesu w Europie Środkowo-Wschodniej, ale także nawiązać kontakty ze studentami uczelni partnerskich i nabrać doświadczenia we współpracy międzynarodowej. Sprzyjały temu zwłaszcza projekty realizowane w grupach międzynarodowych.
Po zakończeniu całej edycji programu Central Europe Connect każdy student otrzyma certyfikat wystawiony wspólnie przez SGH, EUBA i WU.
Kolejna edycja programu zostanie uruchomiona w semestrze zimowym 2021 r. Nabór studentów studiów licencjackich do programu trwa do 20 lipca 2021 r. Więcej informacji można znaleźć na stronie programu: https://ssladministracja.sgh.waw.pl/pl/cpm/wymiana_miedzynarodowa/wyjezdzajacy/comp/Strony/Central-Europe-Connect.aspx
---
NADIYA SKYBA, Centrum Współpracy Międzynarodowej SGH