Praise of perseverance
03.01.2019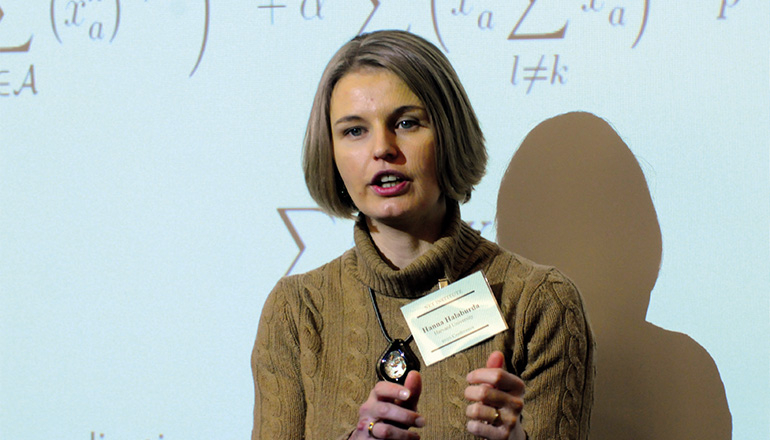 HANNA HAŁABURDA – AN SGH GRADUATE - A WOMAN OF SUCCESS, WHO, AS SHE CLAIMS, HAS ACHIEVED SO MUCH PRIMARILY DUE TO PERSEVERANCE
It's difficult to make an appointment with her because she is still on the run and on her way. The work for the Bank of Canada, lectures, conferences, travels, research. A girl from Szczecin who came to Warsaw to study and was unable to decide whether to devote herself to philosophy or science (so she chose ... both) and she went to SGH to reassure her parents that they would not have to provide for her for the rest of their lives.
– I attended the mathematics and physics class and signed up for advanced mathematics classes at Pałac Młodzieży (Youth Palace) in Szczecin - she recalls. - Then it turned out that the date of the classes did not suit me but the money paid could not be recovered so I went to philosophy classes. I liked the indicated field of knowledge so much that I took part in the philosophical Olympiad and became a laureate, which gave me admission to studies at the University of Warsaw. I thought about MISHU, but I ended up with philosophy and mathematics, which I studied for three years.
She did not tell her parents that she was studying philosophy for the whole first year. 'I didn't want them to worry that I would live from hand to mouth with the philosopher's diploma,' she says. - Taking up studies at SGH was to assure them that I was really thinking about my future.
STUDIES LIKE FORMULA 1
How did she manage to combine her full-time studies at SGH and UW? - Certainly, the fact that I could choose subjects at SGH made things easier - she says. - On the other hand, in philosophy, I tried to include subjects from the next semester 'in reserve'. However, it happened sometimes that I travelled four times a day between the two universities.
Since the second year of her studies she also worked as an assistant at SGH Warsaw School of Economics: she taught microeconomics, assisted in research with prof. dr hab. Honorata Sosnowska and prof. dr hab. Ewelina Nojszewska. She lived at the pace of Formula 1 but, as she admits, she never missed a party. 'I drank a lot of coffee then,' she laughs today. – Hectic lifestyle prepared me for subsequent years.
A POSTGRADUATE ON THE MARKET
Philosophy turned out to be an unexpected asset when while finishing her PhD at Northwestern University she applied for a job at Harvard Business School. It wasn't a matter of chance or luck. I just 'entered the market' like all my colleagues - she says.
She underwent a typical recruitment cycle: in autumn, PhD students send applications to potential employers. A huge recruitment conference is held on the first weekend of January during which universities conduct interviews with candidates. The next stage is an invitation to the campus of the university interested in the candidate, presentation of the candidate's own research and interviews with professors. As a result, in spring, a fresh doctor knows where (s)he will work after graduating.
During the interview with HBS the topics from sociology appeared and Hanna was asked if she had any preparation in this field. She replied that she had a master's degree in philosophy from the University of Warsaw, Faculty of Philosophy and Sociology. It made a great impression on the recruiters, they checked her CV once more and - she was accepted. 'A diploma in philosophy qualified me for their attention,' she states.

THE VALUE OF DISAGREEMENT
Campus life has its rules. Great discoveries are born in the professors' offices, but they are inspired by meetings with employees and conversations conducted at lunch time. - We talk about politics, economy and science - says Hanna Hałaburda. - Young employees are trying to present themselves in the best possible light in front of their professors. I like this lunch community, without which no breakthrough works and theories would certainly be created, because it is difficult to shape something valuable in isolation. During such casual conversations, it often happens that an idea comes up and someone says, 'Okay, maybe we can try to solve this problem.' If you want to be effective in your scientific work, you need to find someone who ... will not agree with you.
Once a friend from Harvard pointed out that she was complaining too often. Of course, everyone complains, but ... not so much. In Poland, it is just this common grumbling that builds the community whereas in the USA, compulsive 'complainers' are avoided. They are neither pleasant nor constructive company.
... it happened that I travelled four times a day between both universities.
Hanna agreed with her colleague, but it was only the beginning of a long way. Bearing in mind that she was to stop complaining, what could she talk about with her colleagues? When she managed to switch mentally, her mother, with whom she spoke on the phone regularly, unexpectedly protested. - You don't complain, you don't share your problems with me and you treat me like a stranger! - she stated sadly. Such was the unexpected effect of Hanna's work on herself.

A VISITING PROFESSOR
Career choices of Hanna Hałaburda were strongly linked to her private life. She wanted to work in one city with her husband, so since 2012 she has been associated with the Bank of Canada, where she holds the position of Senior Economist. The Bank of Canada is the equivalent of NBP: it has a well-developed research department, but it is not enough for Hanna: since 2015 she has additionally worked as a Visiting Professor at New York University. Moreover, she conducts classes in Poland, inter alia, at the Institute of Economics of the Polish Academy of Sciences. She likes working with students although there are infamous exceptions.
'Students at Harvard University are demanding and I respect that,' she underlines. - However, there is no question of disregarding a lecturer, and above all, cheating is unacceptable. It happened to me in Poland that during the doctoral examination I got two pairs of identical papers. Participants wrote the exam at home, they were allowed to employ all sources but the work was to be independent. I reported the problem to the dean and I realised that there were no clear cheating procedures! One of the student pairs, did not confess to cheating but hired lawyers who argued that since the exam instructions stated that the work should 'be independent', it meant that it 'did not have to be' independent. Their clients cheated but everything was in perfect order. Well, I certainly would not like to work with them or employ them ...

NO GIVING UP
- I think that my success was mainly determined by perseverance - says Hanna Hałaburda. - I can say about myself that I am intelligent and hardworking, but a lot of people can boast of the indicated qualities. I suffered many failures, small and big ones. Projects that did not work out or I did not manage to complete them on time, failed exams, rejected applications – all such things can destroy us mentally. It's about getting up and trying again, even though it is not easy at all. When I didn't pass my first-year doctoral exams, I needed a week to pull myself together. Then throughout the summer I studied and rode horses. Finally, I managed to pass al the exams. There were many such situations in my life and each of them was a lesson in perseverance.
Hanna Hałaburda obtained a master's degree in economics at SGH Warsaw School of Economics in 2001. Thanks to the support of prof. dr hab. Honorata Sosnowska, she started her doctoral studies in the USA. She received her doctoral degree in 2000 at the Northwestern University. In the years 2007–2012 she worked as Assistant Professor at the Harvard Business School. She also lectured at the New York University, at the Queen's University in Kingston, at SGH Warsaw School of Economics and at the Institute of Economics at the Polish Academy of Sciences. She is the author of publications on electronic currencies and online competition.