I Like What I Do
27.12.2018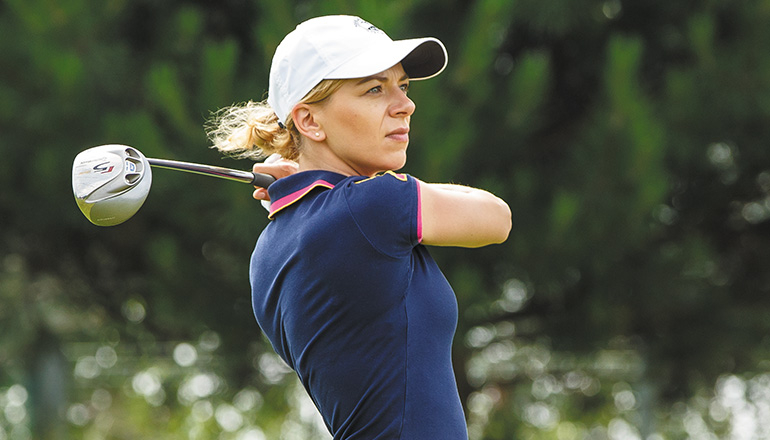 Paulina Roszkowska – The Best Business Professor Under 40.
This year Poets and Quants listed her among the 40 Best Business Professors Under 40. This highly valued distinction awarded by students and graduates is a challenge for Dr Paulina Roszkowska to run even faster.
When Paulina Roszkowska was doing her PhD at SGH Warsaw School of Economics, she thought about working in business and at the same time worked in a company. After doing her PhD she combined the university career with full-time work in business for two years (corporate finance and investor relations). However, she realised that it was impossible to do two things a hundred per cent and achieve real success in both fields at the same time. She chose scientific and didactic work. A scholarship at IESE Business School in Barcelona became a milestone in her professional career. She was thenceforth convinced that by educating students well, one can not only contribute to their development, but also indirectly affect the development and the change of the world in which we all live.
What is more, her stay at IESE Business School made her aware of the fact that if one wants to count internationally one's CV should include a job at an American university. She went on a research internship at Haas Business School, UC Berkeley. After a year she was offered lectures there, after two years - work as an Associate Professor at Hult International Business School in San Francisco. Successes were achieved through hard work.
- At foreign universities, especially at the Haas School of Business, UC Berkeley, I observed the workshop of the highest class professors with MBA students. I was fascinated by their interactions. Nobody was bored during the lecture! Students, inspired by themes, but above all, by the manner of presentation and the quality of teaching, worked with a smile on their faces. I thought that I could be such an inspiring professor - she wrote in SGH 'Poradnik Kariery' (Career Guide). - However, it is possible only if you are up to date and if you develop yourself! But most importantly, such work brings satisfaction and contentment: I just like what I do!

A STUDENT PAYS, A STUDENT DEMANDS
The work at an American university is like the work in a corporation: from morning to evening, often also at weekends.
- A friend who had three children, sent emails to students and colleagues even at four in the morning - says Paulina Roszkowska.
For her, the most valuable reward for the effort put into educating students are words of satisfaction and thanks sent to her after the end of the class, when students can assess the impact exerted by Paulina's classes on their professional life and overall development. American students who pay a lot of money for studying at a good university are very demanding, but also committed to studying. They utilise every minute of class and expect the same from their lecturers. The career of a lecturer depends to a large extent on the opinions of students who electronically complete an evaluation questionnaire after the last class. Poorly evaluated professors teach at a lower level but they cannot neglect their work even there. At Hult International Business School, students rate lecturers on a scale from 0 to 5. If the lecturer's grades are below '4', his contract is unlikely to be extended.
- American students provide large feedback - Dr. Roszkowska underlines. - They comment on the class content, the tools used, the method employed by the professor to 'deliver content' and present their opinions. It is valuable, but you need to "know otherwise" so that you do not get lost among these sometimes divergent opinions.
The dean plays an extremely important role at Hult, he not only evaluates the work of lecturers but also supports them substantively and looks for the best solutions in didactic work to meet the needs of the international MBA student community.

DIVERSITY IS (IN)VALUABLE
About 60 people, 40 nationalities - this is how the group looks like in MBA studies in business schools in the USA. It needs to be integrated. However, it is also necessary to get the best of each participant out of this diversity. They represent people from a variety of professions, brought up in different cultures, with various value systems and different philosophies of life. They share this diversity with their colleagues and professors during their studies and everyone benefits from that.
- My task is to present the topic in a comprehensible and attractive to all students manner - says Paulina Roszkowska. - I am still learning this and I think that the experience I am gaining will also be useful at SGH, where the level of internationalisation is increasingly higher.

ONE HAS TO RUN FASTER
The distinction awarded to the best professor under forty is a reason for joy, but also an incentive for further raising the bar.
'It's not easy,' Roszkowska laughs. - Students know about the award and expect more from me. It is important for me that I got it not from industry specialists but from students who voted on me because they recognised that I exerted a significant impact on their lives and their professional careers. And if so, I have to try harder!

THERE IS NO FREE LUNCH!
Plans? - Life is like driving a car at night: you only see what the headlights illuminate - says Paulina Roszkowska. - I do not plan anything in the distant perspective, I focus on taking a small step every day, which brings me closer to making my big dreams come true.
In her opinion, an academic career is for those who want to discover and create. It requires a lot of work, opening many doors and often confronting a dead end. Additionally, it demands a lot of perseverance – one needs to be prepared for a temporary 'trotting in the same place' and even a 'rejection' when it comes to the process of publishing research results.
- If you approach the indicated process consciously, you will learn to treat such situations as lessons rather than failures. An academic career is a great idea for life: high flexibility of working time, an opportunity to exchange views with extremely smart people, participation in conferences in the most interesting places in the world and being involved in giving inspiration to young minds while conducting classes - she emphasised in her statement for 'Poradnik Kariery' (Career Guide). - However, the most important advice I would like to give to students is: whatever career you choose, do what you enjoy! Only then will you be good at what you do and will you have a sense of accomplishment.
She lives on the run, on suitcases. She has little free time, but at Berkeley (and wherever she finds an opportunity) she 'resets' on the golf course.
- Fresh air, abundance of greenery, full focus on beats, and at the same time those few hours spent in the company of people who share a common passion: I recommend it to everyone! Even though the task is not easy because - as in every other aspect of life - you need to find a balance between extremes. I think Arthur Daley put it best, saying: 'Golf is like a love affair. If you don't take it seriously, it's no fun; if you do take it seriously, it breaks your heart.'
Dr Paulina Roszkowska, a graduate of SGH Warsaw School of Economics (master's degree in 2006 r., doctoral degree in 2010 r.), specialises in conducting classes in enterprise finance, financial analysis and fintech, as well as combining financial decisions with the ethical dimension of doing business. She is currently an assistant professor at SGH, Associate Professor of Finance at Hult International Business School. She is a member of the European Finance Association (EFA).
since 2016 Hult International Business School, San Franisco Associate Professor of Finance
since 2014 University of California, Berkeley, Haas School of Business Visiting Research Scholar, Lecturer
2012-2014 ICN Business
School, ISC Paris, Université Catholique de Lille, IESE BusinessSchool
Visiting Professor, Visiting Scholar
since 2010 Assistant Profesor
2010 Doctor of Economics
2006 MA, finance and accounting
SGH Warsaw School of Economics