Creativity and travel
20.03.2018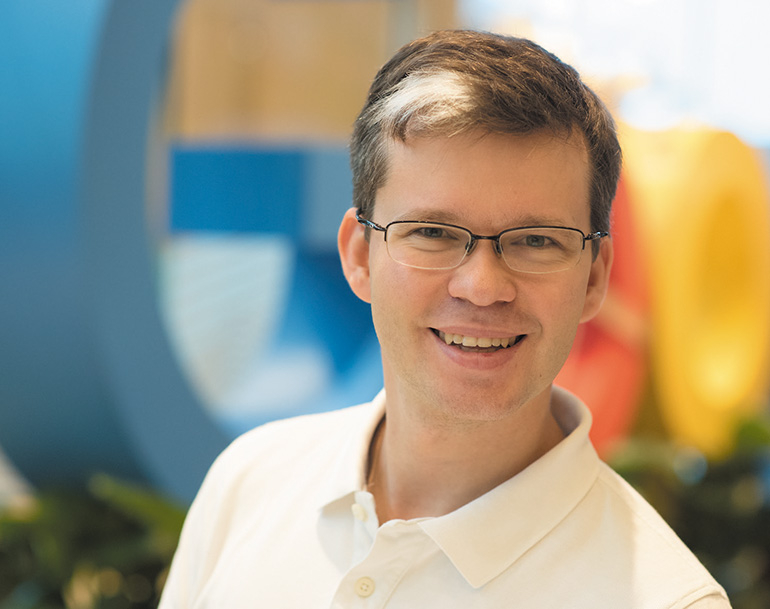 TOMASZ ZACHARSKI - WORKS IN THE BEST COMPANIES, TRAVELS, IS STILL HUNGRY FOR NEW EXPERIENCES. HE ADVISES YOUNGER FRIENDS FROM SGH TO DO THE SAME!
It is said that who you become reflects the features of five people with whom you spend most of your time. It is obvious that when one stays in the company of intelligent people, one's ambitions grow, one opens to new opportunities and one's hunger for knowledge increases. And I think that it was a real asset of my secondary school [the Polonia Belgijska XIV LO in Wrocław, called 'Czternastka' – ed.] and later SGH, Google, INSEAD – meeting interesting people which boosted the appetite for exploring the world.
I attended a bilingual class. We learned three languages (English, Spanish, Russian), some classes were in English. If I were to compare myself with the classmates, I wasn't a nerd but compared to the entire population of Polish secondary school students, I learned a little more. Criticism of 'Czternastka' is often limited to the argument of losing childhood. In my opinion, childhood is a bit overestimated - it's probably better to look at it as an investment in the future since only after completing a secondary school or graduating from a university does life become very interesting.
'OK, I WILL STUDY AT SGH'
As a 4th grade secondary school student, I was regularly asked by my dad about my plans. One day, a bit frustrated, I answered with the question: 'And which university is the best in Poland?' 'SGH' - my father replied. 'Okay, I'll study there,' I answered, although I didn't know anything about SGH. Soon afterwards it turned out that an economic club was operating in our high school and - fortunately! - talks about supply and demand were interesting enough not to discourage me from SGH.
Studies proved to be extremely useful in my career and in particular the involvement in student organisations - in my case, these were: SGH Students Self-Government and CEMS Student Board (an international organisation cooperating with CEMS Club Warsaw).
Similarly to secondary school, the most important thing was who you spend your time with and the possibilities offered by the university. SGH provides a variety of opportunities, international and not that much different from the ones offered to students in other countries. Many people (including myself) think that business colleges in the West, especially in the USA are much better than the ones found in Poland and studying there looks completely different. I was shocked at INSEAD (also during the exchange at CEMS and earlier at Richard Ivey School of Business in Canada), how much my life there resembled that at SGH. Student clubs advertise initiatives – they range from funny and cultural to professional and ambitious. The same companies come to campus to recruit people, and their leaflets are not much different from the ones issued in Poland. The knowledge passed on during lectures is similar. There is no time for anything but somehow students always manage to find some time for an evening party. Moreover, everyone gets tired in a similar way during the sessions, learning half the time and spending half the time browsing the internet pages to complain about the amount of learning they have.
THE VALUE OF DIVERSITY
The main difference between SGH and INSEAD relates to the number of countries students come from. It is not a fully fair comparison, because INSEAD is an MBA. However, it is certain that if there were more foreign students at SGH, an average Polish student would benefit from that a lot.
There were 500 people from 73 (!) countries at INSEAD in my field of study. It made each class amazing as it constituted a combination of the professor's theory (very similar to that at SGH) and the practice of students who discussed their work experiences in the context of the indicated theory.
THE RIGHT TO PRIDE
The majority of universities where I studied were very proud of their achievements. In my opinion, SGH has an equally great right to pride. Students are often unaware of the high quality of projects implemented by student organisations and do not realise how useful the experience in professional life is.
I know people from every country in Europe and what is clearly evident from talks about their study experience is that - student organisations at SGH are very well run and are unmatched even internationally.
When I was the first year student I became involved in the activity of SGH Student Self-Government. I remember a friend from the fifth year saying that it is necessary to wait 15-20 years in an average corporation to reach the level of responsibility possessed by a person from the 2nd or 3rd year of studies in a student organisation at SGH. At that time it seemed completely absurd to me, now I agree with it one hundred per cent!
HOW TIME 'REPRODUCES'?
There is a saying: if you want to get something done ask a busy person. And there is something about it - the more we do, the more we fill our time with work, projects, the more efficient we become. We start planning better and it turns out that we can do five times more than we thought we could.
I think that our time should be filled with activities that relax us and we should find time for friends. A colleague from Google in India has told me that she reads 60-70 books a year. Half of these readings are fiction, so-called 'brain erasers' but they relax her. And after reading such a book, she is ready for a more ambitious position. It is similar with work, studying and student organisations – one has to find time for useful and practical classes but they ought to be intertwined with pleasant activities.
JOURNEYS - ALSO THROUGH TIME
Creativity can be developed by learning something new. The more this 'new' differs from what we're used to, the better. Hence travels make great sense - the farther and the more exotic they are the better. I myself went to Chernobyl, Easter Island, Japan, Australia and many other interesting places.
I was impressed by North Korea - I went there in 2011, when the political situation was definitely less inflamed than today. I faced many absurdities - it was like a journey back in time as I suppose that it was how communist countries looked like in the 1960s, maybe 70s. After the indicated journey, I began to raise money for LiNK (Liberty in North Korea) helping refugees from North Korea.
EVERY DAY IS A NEW ADVENTURE
In case of a typical SGH graduate, the road to companies such as Google usually leads through the European headquarters, i.e. Dublin. The first job after studying at Google in Dublin is often compared to Erasmus - it is very international, and every day is a new adventure. I, a graduate of SGH, was helped by the CEMS programme which perfectly prepared me to work in an international corporation.
EXPERIMENT WHEN THERE IS STILL TIME!
I was always looking for something new at work. Even at Google, I performed five different roles in three different countries. I do not believe that someone who starts working in a corporation on the first day after graduation and who holds on to this work for many years will achieve greater success in professional life than the one who experiments, who travels.
In a short period of time, he may climb the ladder a little higher, but in the long run he will not know the global context to make optimal decisions.
UTOPIA THAT HAS BECOME A LESSON
We wanted to create a company producing software facilitating culture management within an organisation. Events, launches, internal networking, mood testing. Unfortunately, we did not succeed and the business collapsed after six months. We made a lot of mistakes, but we also gained a lot of life and business experience – it will be useful if I ever decide to start a business again.
ASIA FOR BEGINNERS
Singapore is said to be an 'Asia for beginners' because living standards are among the highest in the world and most residents speak English. The society is international at this place, making it easy to develop nice and useful relationships. Although my best friend from SGH still remains my best friend - we managed to move to Singapore together although we came here in completely different ways.
Singapore is also an ideal place to live - life is easy because everything is perfectly organised and thought out. I will stay here for a few more years. And what later - we'll see. Maybe the States and California because of work, or maybe the spirit of adventure will blow me to Japan?
People who want to know Tomasz Zacharski better are encouraged to visit the website: Tom Zacharski – a journey through life www.tomzacharski.com.