Rekrutacja do programów podwójnego dyplomu
22.07.2020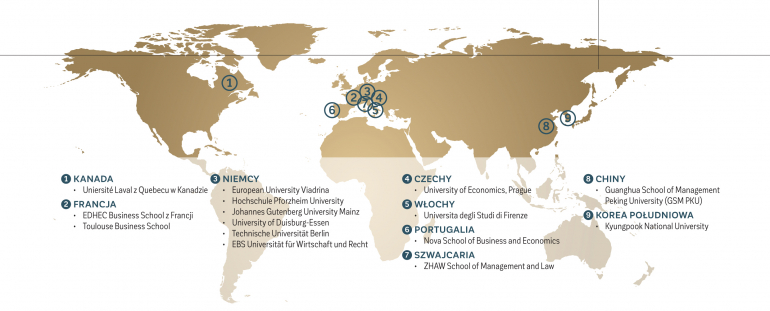 Centrum Programów Międzynarodowych od lat realizuje i stale rozszerza ofertę programów podwójnego dyplomu (PPD) na poziomie licencjackim i magisterskim.
Pod koniec kwietnia przeprowadziliśmy spotkanie informacyjne online (ze względu na epidemię COVID-19), w którym wzięło udział prawie 100 osób! Spotkanie miało przybliżyć potencjalnym zainteresowanym kandydatom ofertę SGH, jak również zasady kwalifikacji. 
W obecnym semestrze przeprowadziliśmy selekcję do czterech programów licencjackich z następującymi uczelniami:  
European University Viadrina (Niemcy)  
Pforzheim University of Applied Sciences (Niemcy) 
Kyungpook National University (Korea Południowa) 
Peking University Guanghua School of Management (Chiny). 
Na szczególną uwagę zasługuje ten ostatni, który wyróżnia się spośród pozostałych długością trwania (4 lata), a także możliwością wzięcia udziału w prestiżowym programie "Future Leaders" i dołączenia do grona studentów z najlepszych uczelni biznesowych z całego świata. Trudno nie wspomnieć tutaj o stypendium na pokrycie kosztów życia w podczas dwuletniego okresu studiów w Chinach. 
Na poziomie magisterskim została przeprowadzona selekcja do tych programów, w których nauka rozpoczyna się od rocznego wyjazdu do uczelni partnerskiej, a więc do:
Gutenberg School of Management and Economics, Johannes Gutenberg University Mainz (Niemcy) 
Mercator School of Management, University of Duisburg-Essen (Niemcy) 
Technische Universität Berlin (TUB), Fakultät Wirtschaft und Management (Niemcy). 
Jeśli myślicie, że straciliście szansę na zdobycie dwóch dyplomów w ramach swoich studiów magisterskich, nic bardziej mylnego. Otóż rozpoczynamy selekcję do pozostałych MPPD z następującymi uczelniami:  
Université Laval (Kanada) 
University of Economics, Prague (Czechy) 
Universita degli Studi di Firenze (Włochy) 
EDHEC Business School (Francja) 
Toulouse Business School (Francja) 
EBS Universität für Wirtschaft und Recht (Niemcy) 
European University Viadrina (Niemcy) 
Nova School of Business and Economics (Portugalia) 
ZHAW School of Management and Law (Szwajcaria). 
Nabór dostępny jest dla kandydatów, którzy w październiku rozpoczną pierwszy rok na stacjonarnych studiach magisterskich na jednym z kierunków podanych na stronach poszczególnych programów. 
Termin składania zgłoszeń upływa 17 września. Nie spóźnijcie się! 
Zacytuję jeszcze jedną ze studentek kończących program: "Wyjazd zagraniczny to najlepsze, co spotkało mnie na SGH, i uważam, że każdy powinien korzystać z możliwości, jakie oferuje nasza uczelnia".   
AGATA AUGUSTYNIAK, Centrum Programów Międzynarodowych SGH 
Szczegółowe informacje na temat PPD znajdują się na stronie Centrum Programów Międzynarodowych: