Uncertainty as a token of our times – finding hope in unity and community
19.05.2022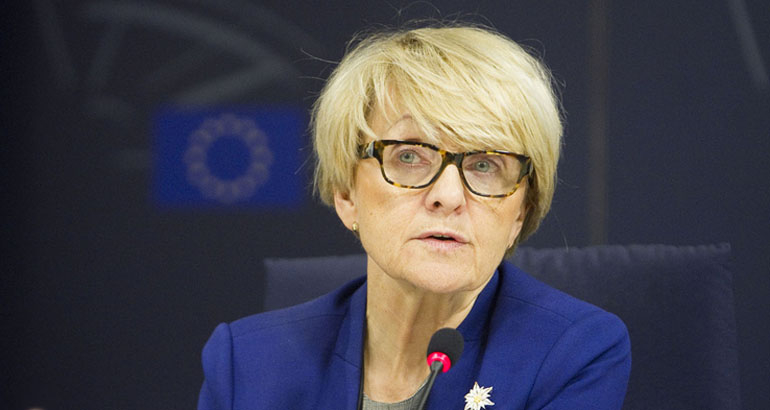 Karolina Cygonek interviews Professor Danuta Hübner, MEP and former EU Commissioner in charge of regional policy and trade, about political and economic challenges and threats for Europe and the world as a result of Russia's invasion in Ukraine
Professor Danuta Hübner – a Pole, a European, a Varsovian, the first Polish Commissioner in the EU, Member of the European Parliament since 2009. A graduate of the Foreign Trade Department at SGPiS (now: Warsaw School of Economics) (1971), studying and working at the WSE for many years (doctorate, advanced doctorate). She holds a Honorary Doctorate from the University of Sussex (UK), the University of National and World Economy in Sofia (Bulgaria), Universita degli Studi in Camerino (Italy), Poznań University of Economics and Business (Poland) and L'université de Valenciennes (France).
Professor Hübner, it is your third term of office in the European Parliament, and you have played many important roles. You were the first EU Commissioner from Poland. As Minister for European Affairs, you accompanied Poland's accession to the EU. This was a breakthrough moment for Poles. Now, after Russia's invasion in Ukraine, since we cannot ignore the events beyond Poland's eastern border, we are facing a major breakthrough, or, to be more correct, a change in the global order. What is your perspective on the current situation? Is the European Union going to come away unscathed from it? Will we be able to save our world and our values? At what price?
This is a question without any brief answers. The world we got accustomed to, where we had relative peace and tranquillity in Europe for several decades, has changed a great deal with Russia's aggression against Ukraine. Of course, we do not know today how long this war will last and how it will end. Therefore, thinking about the post-war world is partly based on dreams, and partly on speculations. Sometimes there is more optimism, sometimes more pessimism, but I think Europe is finding a way out of this very difficult situation. The war is just around the corner, on the European Union border, and the border countries have already been highly affected by its short-term consequences, such as the enormous wave of Ukrainian refugees, mainly women and children. Today, we can already say that the post-war world will be very different from the world we used to live in. The most important thing today is that the democratic world has become highly united in the face of the new situation, in an unprecedented way. We can clearly see that unity is a source of strength, and we see the need for a united Europe.
Given the nature of our integration, decision-making usually takes some time…
This time, Europe has demonstrated fast pace and courage in its decisions. I believe a geopolitical Europe has been born. Apart from joint action within the EU, we have also reached out to all our allies, democratic countries, for support. Unity is clearly demonstrated in decisions regarding sanctions. I think that this kind of communality in action will survive beyond the period of war because we will need it during the reconstruction of Ukraine. Today, thinking about the future is fraught with high uncertainty. The world will continue to be divided. We still do not know what kind of position China will assume in this new world. Most likely, the post-war period will see a race between democracies and autocratic regimes. While this has mostly occurred in technology so far, which has been particularly evident in the context of US-China relations, this race after the war in Ukraine will go beyond technology and will also relate to political divides. At present, the aggressor is the country with the largest territory, a permanent member of the United Nations Security Council, a body set up after World War II to maintain peace in the world. It is hard to imagine how the global security system can continue unchanged. After all, the Russian leader has already been accused of war crimes.
Thus, I think the post-war political order will be a challenge for Europe, and for the entire democratic world. We will need to think who should sit at the table again and how to ensure a secure future for the world. Moreover, the EU has its own challenge at present: we will need to roll up our sleeves, find plenty of funds, attract investors and rebuild Ukraine. No matter if this war ends in a month or in six months, it is already quite clear that Ukraine has not only suffered terrible human losses, but many of its cities and towns have been razed to the ground so there is an enormous need for reconstruction. I think Europe will be a source of inspiration for others in this context and a driving force behind the interest in rebuilding Ukraine. We carry enormous political responsibility.
What is your take on the bigger picture?
Global politics will also change immensely. If we look at the developments in the economy (such as broken supply chains, companies that cannot actually continue production due to huge energy costs arising from dependence on Russia), it is clear that there is no simple continuity of the policies that have been pursued so far. We are already on the lookout for new solutions for supply chains and for security of supplies (for instance fundamental metals for the production of semiconductors).
The dependencies we created through globalisation have been torn apart, which means that simple continuation is presumably impossible. One major task, especially for the EU, will be to reduce our dependence on the energy sources that are being imported from Russia today. We will carefully check the sources of our energy imports in future. I think this challenge will enable us to leverage the transformations that have already been initiated to address climate change in the energy sector and to expand the renewable energy sector. It is important that this process is continued.
What are some other risks that you see?
There are many more challenges for Europe and the world, and not all of them are new or related to this war. Let us not forget that there are processes which have been going on for years. Climate protection or global digitalisation will need to be continued.
The change in the post-war world will also affect our way of living, our ability to distinguish true information from false messages that serve the interests of populist leaders. As it happens, very skilful autocratic leaders know how to use, at various levels, social media or experts who create a false image of politicians. They might also present a false image of the war, or create an unrealistic, distorted world and present it to their societies. We simply cannot ignore this risk since it influences our decisions. Also, we cannot forget that such things are possible because people make important decisions in their lives on this basis. Thus, we need to be aware of the responsibility. For some time now, Europe has been trying to introduce regulations to mitigate this risk.
And one last thing. We have always been aware of kleptocracies and thievocracies. Russia's attack on Ukraine unmasked the faces of all those beneficiaries of the kleptocratic system. It turns out that these are very extensive networks that exist throughout the world and know no borders. In many a case, the oligarchs and people who take part in those reprehensible practices transfer their stolen wealth to the democratic world, where they use it. On our part, we lost our guard because this phenomenon has grown too much. For this reason, the democratic world needs to rethink its financial systems and perhaps make changes to stop kleptocrats. Their activities are unacceptable not only to the societies they originate from and they steal from, but also to societies in other countries where they reap these benefits. We have already started a discussion on this topic with the USA and the UK. We have set up a group across three parliaments (the EP, the U.S. Congress and the House of Commons in the UK) and we are trying to motivate the world to take action to stop these practices.
On the one hand, we have the unity of the EU versus the conflict in the east in its many aspects, and, on the other hands, the interests of individual countries. Are you not afraid that these interests will prevail at some point? The Polish government has announced an embargo on coal imports from Russia and critics say that this step is barely in line with the EU law. Do you expect such radical decisions from specific EU member states?
The decision-making system in the European Union calls for unanimity, e.g. on foreign policy issues and, in particular, when deciding on sanctions. Some political leaders do not hide their liking for actions that divide the European Union. Recently, we saw astonishing examples of great unity during the Brexit negotiations. The pandemic has also opened up strong will to act together. And now, paradoxically as it may sound, this war has united us. I think that many decisions would have been unimaginable in the past, but actually one could have expected right from the start that unity would not be so obvious in matters related to the varying ability of countries to reduce their energy dependence on Russia. This is not the first trouble we have had with our big neighbour. The Orange Revolution, the Euromaidan, the annexation of Crimea as well as the war in Donbass with the occupation of Lugansk and Donetsk have shown that Russia's intentions towards Ukraine are neither pure nor based on respect for a sovereign nation. After the annexation of Crimea in 2014, the EU decided to introduce an embargo on arms exports to Russia, which is still not adhered to by almost a third of EU countries today. Our energy dependence on Russia increased after 2014. In Poland's case, we are talking not only about gas and oil but also hard coal. Today, the attempts to impose an embargo on imports of fossil fuels from Russia is the first factor that genuinely divides Europe.
However, the actions taken by the European Commission show that it is fully aware of the great diversification of countries' economic dependence on Russia, and that there is a need to take steps that will be more strongly based on intra-community solidarity. The Baltic countries are an excellent example here. Lithuania has quite a few terminals for liquefied gas, imported to Europe from the USA and Norway. Latvia has extensive storage capacity for this commodity whereas Estonia wants to make use of this. We can see that a set of common interests is emerging among these countries and that there is room for joint action along the same lines. This is why the European Commission, in its project for a major energy revolution, sees the need for joint action, for the use of common resources to avoid price competition, and to increase transmission capacity. It turns out that we can reduce the current dependence on gas and oil imports from Russia in a very short time, especially if, in addition, we also take steps to increase energy efficiency and speed up the transition to renewable energy sources. Coal imports are an obvious 'skeleton in the cupboard'. Both Germany and Poland import large quantities of coal from Russia. Nobody is forcing Polish companies to import coal from Russia. Perhaps diversification of import sources will entail higher prices. However, there are enormous European funds available for accelerating the reduction of the share of fossil fuels in our energy balance, and this decision must be taken at last. This is an opportunity which this cruel war is creating also for ourselves.
How would you assess Poland's role in the refugee crisis?
Since the beginning of this sick and cruel war, the Polish government has used Poles' great commitment and the civil society's involvement in providing ordinary human assistance to those who need it. This helped to defuse the crisis ensuing as a result of the unprecedented influx of refugees. Nowhere in the world has there been a case where such an enormous number of refugees was handled within such a short time by civil society, non-governmental organisations and people who were mostly alone in the process. The role played by the central government at the border or at reception points can be identified at specific locations. However, the most difficult part of this huge work was done by ordinary people. It is a major common concern now to think what we need to do in order to ensure that the responsibilities assumed by ordinary citizens are taken over (as quickly as possible, and in an organised way) by governmental structures at local or central level. It is good that Europe has also got involved and that Poland receives its support (although Poland is not asking other countries for help because it does not want to create an inconvenient precedent for itself).
There are many countries which are willing to accept refugees, and enormous funds have already been allocated for this purpose. I think they will already become available in April. There are also funds from unused cohesion policy measures. The largest pool of money is available for Poland since it has assumed the greatest burden of the refugee crisis. There is also organisational support from European institutions and agencies that deal with refugees. There are multiple support options, but sometimes a member state must ask for them to be granted. We see a lack of understanding across Europe as to why Poland did not ask for help right from the start. Some institutions, such as Frontex, cannot take action without receiving a request from a member state. This has already happened, and some people have been admitted to work on the Polish-Ukrainian border on behalf of Frontex, although its involvement in Poland is much lower than in other countries which are faced with a smaller scale of challenges.
I do hope that the Polish government will understand that this is not just about spontaneous action and about addressing short-term challenges related to a large influx of refugees. It is important to finally have a genuine strategy, a real immigration policy. We have entered a new era of globalisation, which involves migration, and we will be living in this reality for decades. At present, Poland is located on a migration route, and this is unlikely to change over the next few decades, especially when we look at the downward demographic trends. Poland's population will continue to shrink, so it is essential to have a rational, well-prepared and carefully designed migration policy. The government is pushing this task away, as it most likely involves multiculturalism, which is unavoidable but not quite favoured by the current authorities and some political forces in Poland.
It is obvious that the path to EU membership is arduous and certain conditions must be met. As an experienced person who introduced Poland to the EU, would you open the EU door to Ukraine? When and under what kind of conditions?
Some people in the EU are shouting loudly: "Let's open the door for Ukraine!" and say that it is necessary to respond positively to the aspirations that Ukraine has expressed for a long time. There are others, who point out that there are no shortcuts and that the EU accession process involves the need to meet multiple requirements. I think that even those who demand that Europe opens its door to Ukraine are aware that this process must take time. I believe that Ukraine really needs hope now. Therefore, at the meeting in Versailles, a promise was needed from European leaders that we would ask the European Commission to prepare an opinion on Ukraine's membership in the EU. This is the first step towards membership, according to the treaties. The request has been filed, the Commission is working on the opinion, and there are Poles in the Commission as leaders of teams responsible for relations with Ukraine. I expect this opinion to be prepared sooner than it was in the case with Poland, which had to wait for more than two years.
We must remember that this is not the first step towards the EU for Ukraine. The first partnership and cooperation agreement between the EU and Ukraine was signed in 1994, when Poland was filing its application for membership. Then we had the neighbourhood policy, where Ukraine participated, and we had the Eastern Partnership policy. Not everyone knows that Ukraine is currently an associate member of the EU, it has an association agreement with the EU and a very in-depth trade agreement, and it participates in multiple programmes, including youth and science programmes as well as single market programmes. Ukraine also receives support for making adaptations before EU membership, and funds related to the implementation of the Association Agreement. In my opinion, Ukraine is equally or more advanced today in its preparations for accession than Poland was when it submitted its membership application in 1994. Poland joined the EU ten years later. Of course, Ukraine is in ruins because of the cruel war at the moment. Both processes, i.e. the great post-war reconstruction and preparations for membership, will proceed in parallel. I believe that Poland and Poles will participate in both these processes and will support Ukraine, but its membership will not happen tomorrow. I know from our experience (including the degree of preparation among the public administration) that if you are well prepared, you can indeed make a better use of the growth opportunities offered by EU membership. Moreover, it is in Ukraine's interest to join and make Europe stronger rather than not to join and make Europe weaker. This means it is in our common interest to make everything work well.
However, there must be political will on the other side, and the promise of membership could prove to be a pipe dream in a time of war.
You are asking where my optimism comes from. For over 20 years of Ukraine's relationship with Europe, there was a 'black cloud' hanging above our heads, undermining the political will and slowing down Ukraine's integration. That 'black cloud' was Putin as well as false political correctness based on the idea that we can arrange relations with Russia by accepting its leader. There was also the belief that the Russian Federation can be turned into a democratic country if we continue a politically correct dialogue. Consequently, the approach was: "Let's not talk about Ukraine, let's not upset Putin." I think that today nobody would think to hush up Ukraine's EU accession to respect Putin's 'sensitivity'. Simply speaking, this has been the case so far. I feel this time is over now. We have witnessed a great change in German policy, which took almost everyone by surprise a few weeks ago, in a positive sense. I hope that there will be no political factors curbing our enthusiasm to prepare Ukraine for EU accession. I think that there is no other option.
Both Ukraine and the Ukrainian people have demonstrated great mobilisation. They have shown that they belong to the community of Europe. They have shown what matters to them: freedom and democracy, and even the ability to fight in defence of democracy and freedom. Their request to open negotiations and to bring Ukraine to EU membership will also be a major new issue that the EU must seriously address now, and it must certainly be approached very seriously as soon as the war is over.
You are a member of the European Parliament's Delegation for relations with the United States of America. You also have experience of working with United Nations Organisation. The financial and economic sanctions imposed on Russia by the EU and the USA are unprecedented. However, sanctions are always a double-edged sword. As an expert in economics, foreign trade and international economic relations, how do you see the impact of the war in Ukraine on the global economy? Where are we heading? Should we brace ourselves for a global crisis?
We would need to talk about specific scenarios. These visions depend on things we do not know, such as when the war ends and how it ends, and the conditions of peace. A great deal will depend on this. Also, let us not forget that Russia is the largest country in the world in terms of territory. However, it plays a very small role in the global economy. Its economy is close to that of Spain, i.e. around 2% of the world's GDP. As such, it could be ignored, but we must not ignore it because of the structure of the Russian economy and the structure of its foreign trade. Energy dependence and dependence on multiple critical commodities is something that has determined the economic importance of Russia for the Western world. Today, it is difficult to say how much we will succeed in reducing this dependence, and to what extent Russia is cut off from the global trade now that it is completely cut off from the global economy due to sanctions. After all, many countries around the world, also within the WTO, have deprived Russia of the most-favoured-nation status. Russia is no longer a member of the Council of Europe, an organisation that upholds human rights and democracy.
Of course, sanctions have an enormous impact on Russia, but they also affect a great many enterprises. After all, the whole world, including democratic countries, was present on the Russian market. Many of the sanctions are actually affecting businesses from countries that have imposed those sanctions. Most of these businesses have essentially withdrawn from their business in Russia, and companies affected by energy prices are also bearing huge costs. Once Russia has been cut off from the global economy, companies which are doing business there are faced with rising costs. In addition, there is the overall inflation, exacerbated by the pandemic but also driven by many different factors even before the war. Thus, we see rising inflation around the world, and ever fewer people are saying that it is going to be short-lived and might disappear, for instance, in two or three years. Perhaps the post-war years will be a time of persistent inflation and fairly weak growth. There is also a risk of stagflation, a phenomenon we have not seen in Europe for several decades.
Also, we do not know to what extent post-war reconstruction will be a driving force. Things might develop in a variety of ways, but inflation will certainly stay with us, and some kind of economic collapse will ensue. It was just as well that the war broke out at a time when the world economy was growing, Europe had a relatively good economic situation, and Poland recorded relatively high growth. The war hit the global economy and slowed down its growth, but, so far, it has not led to a crisis or a negative growth rate. Consequently, these economic problems, such as difficult access to raw materials and broken supply chains, are structural in their nature. Can this be reproduced? I do not know. We also do not know how long the sanctions will last. That will depend on the outcome of the war. Another thing to be seen is how soon Russia can reinstate itself in the global economy, and the financial networks, and how quickly our businesses regain their capabilities.
A donors' conference for the reconstruction of Ukraine after the war will soon be held. We will need to see the degree of mobilisation. Thus, there are a lot of factors and multiple uncertainties. I believe uncertainty is a major determinant of our times.
Where do you see a light in the tunnel? I am asking this question because you were an academic teacher at the Warsaw School of Economics (former SGPiS), your alma mater, for many years. For WSE students and graduates, you are a figure of authority in public service, Poland's ambassador in the EU and international institutions, a showcase of women with great achievements. Please give us some hope in these difficult times.
If you look around, you will see a lot of positive things. For example, I attend the conference on the future of Europe, where we have civic panels: the participants (hundreds of people) have been selected in a representative way. We hold meetings on a variety of topics and there is a lot of positive energy. In 2019, during the European elections, the most uplifting event was a meeting in Warsaw with young people about the climate strike. The young people engaging in the movement for climate, trying to save our planet, is exactly something that fills me with some hope and optimism. Recent years have also seen a movement of women in defence of their rights or, in fact, in defence of human rights. Women took to the streets, and although the phase where the movement showed increased activity is over now, a lot has changed in our hearts and in our thinking about responsibility and about the future of the world.
There are also judges who come to Brussels to defend values and the rule of law. This is a wide community of people who have 'woken up' and will no longer let anyone 'lull them to sleep'. Also, we are witnessing this huge spontaneous movement among people who have rushed to help refugees, for instance teachers who have taken on new responsibilities towards traumatised children from Ukraine, and they have done so very kindly and without complaining. Throughout the pandemic, people were tired of the situation, but they would get up every day nevertheless. Now, they have been additionally burdened with the fear of war and various personal problems, and yet they all get up in the morning and go out to serve others. This shows that people want to take matters in their own hands, and want to decide about the future of the place where they live. I can see ever more Poles opening up to work for the good of the rest of the world, I can see increased civic activity and a sense of community.
---
The interview was conducted on the occasion of the third webinar in the series entitled "WSE in the EU, the EU at the WSE" series and was called "Between the European dream and the everyday reality in the EU." The guest was Professor Danuta Hübner, Member of the European Parliament. This online webinar took place on 28 March 2022 under the honorary patronage of the WSE Rector, Professor Piotr Wachowiak.
The webinar recording can be watched on YouTube.