Join CEMS Master's in International Management!
28.09.2021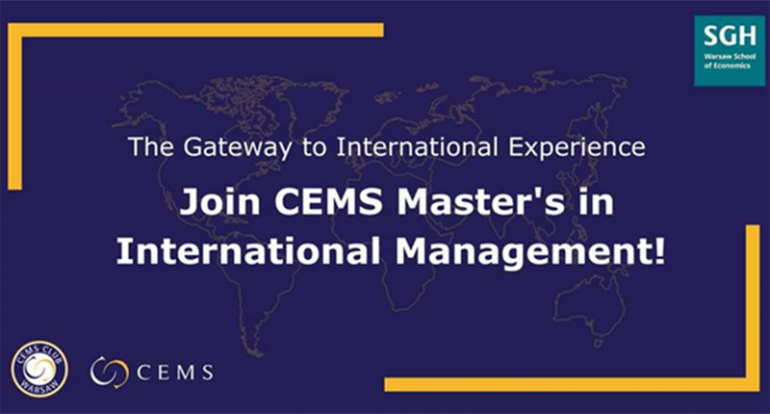 First edition of promotion project completed with success!
Our project: The Gateway to International Experience. Join CEMS Master's in International Management! consisted of 6 events with the goal of familiarizing the prospective candidates not only with the CEMS MIM programme but also its elements such as lecture, skill seminar or meeting with a company.
11 May 2021
CEMS MIM at a Glance – introduction meeting run by Grzegorz M. Augustyniak (CEMS Programme Manager), who presented the CEMS alliance and its members: business schools, corporate and social partners as well as elements of  CEMS MIM (lectures, Block Seminar, Global Citizenship Seminar, Skill Seminars, Business Projects, international internship). The meeting ended with Kahoot quiz on CEMS and the programme. Three participants with the highest score received  awards.
13 May 2021
Lecture with CEMS Professor – CEMS lecture on the topic of Managers and Leaders Go Global! was done by professor Jacek Miroński. The goal was to acquaint the students with the way CEMS courses are run, putting emphases on the intensive interaction between participants and development of practical knowledge.
18 May 2021
Meet CEMS Corporate Partner – Hilti. Participants had the chance to get to know from "inside" one of the CEMS corporate partner, Hilti, as well as career paths of CEMS graduates. The Hilti's representatives present were Katarzyna Makarska (Talent Attraction and Acquisition Manager at Hilti Poland/Employer Branding/Diversity & Inclusion/SocialMedia) and 4 CEMS graduates, who work at Hilti: Marta Maciejewska – Sustainability Manager, Hanna Górczyńska – Evolution Project Manager, Ludwik Zabłocki – Engagement Manager and Petr Basa – Data Quality Manager. It is important to point out that Hania and Ludwik are graduates of both CEMS and SGH.
20 May 2021
Mini Skill Seminar – the workshop on topic of Demystifying Enterprise Agility was conducted by McKinsey & Company representative, Tomasz Maj (Enterprise Agile Coach). Skill seminar is an obligatory element of CEMS MIM programme and students have to credit at least 4 days of such workshops during their programme.
25 May 2021
Integration Event –networking event in which our current and prospective CEMS MIM students as well as graduates participated. This was an occasion for informal talks, asking questions and experiencing the magic of CEMS spirit.
27 May 2021
Recruitment Process Q&A Meeting – the meeting concluding the series of webinars Grzegorz M. Augustyniak (CEMS Programme Manager) talked about the process of selection and answered the most frequently asked questions concerning the process ( required documents, knowledge of languages, assessment center, interview).
Warm thank you to all candidates for participation and engagement.  Everyone is welcome to attend the 2nd edition next year!
CEMS MIM 2022/2023
The selection for new edition of CEMS MIM programme is about to start soon.
The selection schedule for CEMS MIM programme has already been published. First step is the registration in the on-line systems, the time for that is between 25 October and 15 November 2021.
We invite all SGH students to participate in CEMS MIM programme! It will enable you to have head start into your international career or when starting your own business on global scale, at the same time holding the highest standards of ethical and social responsibility and professional integrity.  To make clear – in Poland you can do this programme only at SGH!
Very important: CEMS MIM sets very high selection requirements, that's why we are asking all students interested in taking part in the programme to:
pass the exam to receive one of the language certificates at required (or higher) level: IELTS (Academic) 7.0, CAE (grade B), CPE (C1 Certificate), TOEFL iBT (100), BEC Higher (grade A); PTE Academic (min. 68); this year also the Home versions of certificates are accepted. No certificate is necessary for graduates of studies in English language on the condition that it was done at CEMS member universities/schools or universities/schools that are EQUIS or AACSB international accredited or issued in a English-speaking country;
pass the exam to receive one of the certificates from second foreign language or apply for the CNJO certificate (for graduates of Bachelor studies at SGH who completed SGH tutorials in second foreign language);
gather extracurricular activities and apply to Student Projects' Evaluation Commission of Student Union for granting student activity points (applies only to non-SGH graduates).
All above mentioned requirements need to be fulfilled by middle of November, so the deadline for taking language test is end of October. If you already possess the language certificate on C1 level or above, your certificate is valid for life. In case of certificates on level B2/B+, they are valid for 5 years and in case of B2 level - 2 years. 
More information about the CEMS MIM programme is available on websites: www.cems.org and www.sgh.waw.pl/cems. If you have any questions, feel free to write to cems@sgh.waw.pl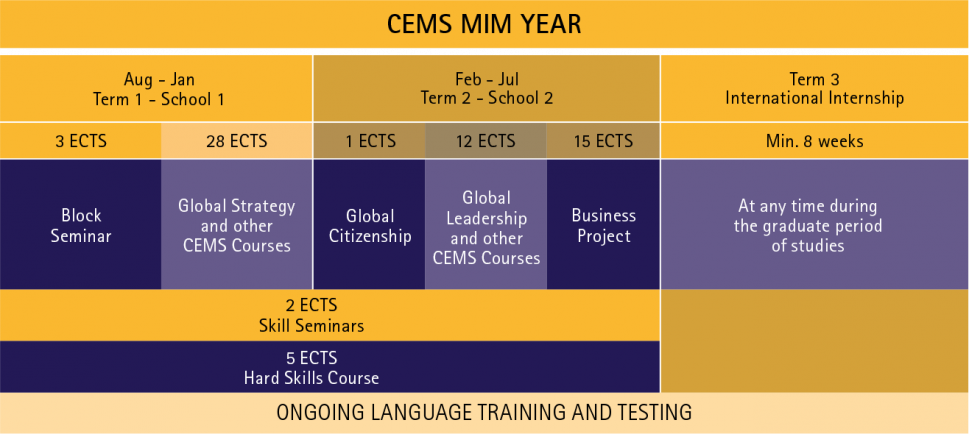 ---
GRZEGORZ M. AUGUSTYNIAK, Deputy Director, International Center at SGH
ANETA SZYDŁOWSKA, CEMS Corporate Relations Manager, International Center at SGH