SGH expresses solidarity with Ukraine and provides support
03.03.2022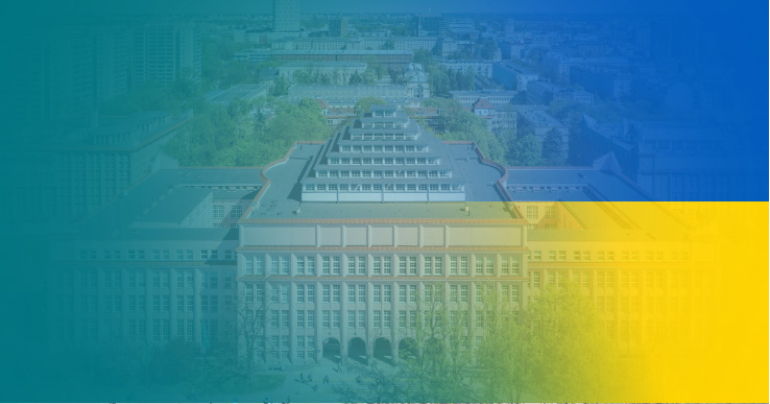 In connection with the Russian Federation's unprecedented military aggression against Ukraine, the authorities of SGH Warsaw School of Economics take action to support the Ukraine community – students, doctoral researchers and employees – in our University.
(provided below is information about the assistance and options for volunteering provided by SGH, as well as non-government organizations you can support and address of the official government website for assistance to Ukraine)
SGH's response to Russian aggression against Ukraine
On the morning of Thursday 24th February, as soon as the world received the news of Russia's military aggression against Ukraine, the representatives of SGH authorities, employees and Student Government assembled to discuss the University's response to the ensuing situation and any assistance that could be given to students, doctoral researchers and employees from Ukraine.
The community of SGH Warsaw School of Economics used its information channels to express solidarity with the Ukrainian nation in connection with the Russian Federation's unprecedented military aggression against Ukraine.
The Rector of SGH, Piotr Wachowiak, addressed a letter to the Ukrainian Ambassador in Poland, Andrii Deshchytsia,  condemning Russia's hostilities against Ukraine. 'It is with disbelief that I received the information about the Russian Federation's overt aggression against Ukraine. I am deeply shaken by the fact that Russian forces have attacked our Neighbour in violation of all norms of international law, destroying the post-World War II order in Europe. The Russian invasion of Ukraine is a dishonourable act with no precedent since 1945,' Professor Wachowiak emphasized. "On my own behalf, on that of the University's authorities and of the academic community as a whole, it is my desire to assure Your Excellency of our solidarity, complete support and readiness to assist the Ukrainian community at the SGH Warsaw School of Economics," states the letter.
Assistance at SGH
Both the Rector and the Student Government have extended assurances of full support for Ukrainian students at SGH, inviting them to a meeting on 25th February to discuss the current situation of the students and their current needs. A similar meeting was held on 28th February with the University's Ukrainian employees. Doctoral students, too, can count on the SGH's assistance. The University is in touch with them.
We are also in touch with our partner universities in Ukraine. His Magnificence the Rector has extended to the Rectors of Ukrainian universities a message of solidarity and support in this inconceivably difficult time.
Patrycja Wyżlic and Dr Marta Pachocka have been appointed to serve as co-ordinators of all of the SGH's assistance efforts. Please contact them about any ideas and opportunities for support. E-mail: pomoc.ukrainie@sgh.waw.pl.
Providing support and care to students, doctoral researchers and employees from Ukraine is a priority to us at the present time. The SGH for Ukraine initiative urgently calls for the participation of volunteers from our University – employees, students and graduates – actively engaging with the assistance efforts. We need volunteers in the following two areas:
•    Operational, providing all kinds of ad-hoc support such as transport, shopping, administrative matters, languages, child care, etc.
The SGH Student Government has made generous contributions to the assistance efforts. Student initiatives for Ukraine include:
1. A Polish and Russian Telegram channel.
2. Assistance mailbox at ukraina@samorzadsgh.pl, in Polish, English, Russian and Ukrainian.
3. 24/7 duty in buildings providing accommodation for refugees from Ukraine. Contact them at ukraina@samorzadsgh.pl or the Student Government's Facebook fan page.
On 26th and 27th February we received the first refugees from Ukraine and provided them with lodgings at the campus. On Sunday, 27th February, we provided a coach bus at the border-crossing point in Medyka for several dozen refugees from Ukraine to bring them to Warsaw and give them shelter. Our guests are primarily mothers with children carrying nothing but hastily arranged hand luggage with them.
Also students from third countries are fleeing to us from Ukraine. They are beneficiaries of assistance programmes for far-off countries, to which it is not easy to return now. SGH employees are arranging for board and lodging for them. 'The first among them, including citizens of Nigeria, Sierra Leone, Somalia, Malawi and Bangladesh, reached the SGH campus on Saturday, 26th February. Staying in touch with other students, they circulated among themselves the news that SGH offered a safe abode. At first several people came, to be followed by several dozen more within a day. Thanks to the enormous contribution of students from the SGH Student Government, in consultation with embassies, e.g. the Nigerian one, several people have already safely flown off to their homes; others remain in our care pending the relevant refugee-status proceedings,' Dr Anna Masłoń-Oracz, SGH Rector's Representative for Africa, informed Gazeta SGH. On 28th February, together with the Helsinki Foundation for Human Rights, SGH is engaged in providing legal assistance for the refugees.
SGH also operates an Assistance Point (Punkt Pomocowy) for refugees on one of the crossings on the Ukrainian border. There, we will be providing any information that may be needed, as well as food and other most basic necessities.
The SGH study rules and regulations provide for emergencies. In cases of non-compliance with responsibilities in connection with the developments in Ukraine, Ukrainian students can contact the relevant Dean's Office and the SGH International Centre. Contact persons have been appointed in such units for matters involving support for Ukrainian students. For the Graduate Studies Office (Dziekanat Studiów Magisterskich) the contact person is Diana Krysińska, E: diana.krysinska@sgh.waw.pl, T: +48 22 564 98 84, Building G, room 47. For the Undergraduate Studies Office (Dziekanat Studiów Licencjackich) the contact person is: Katarzyna Bielawska, E: kbiela@sgh.waw.pl, T: +48 22 564 99 23, Building G, room 5. For the International Centre (IC) the contact persons are: Monika Komorek, E: mkomore@sgh.waw.pl, T: +48 22 564 9843, Building A, room 6 and Nadiya Skyba, E: nskyba@sgh.waw.pl, T: +48 22 564 9760, Building A, room 17.
Psychologists have been scheduled with additional hours to assist foreign students:
https://ssl-student.sgh.waw.pl/en/psychologicalassistance/
Study at SGH
People from Ukraine inquire about the possibility of studying at our university. If you are interested in studying at SGH Warsaw School of Economics, please contact our colleagues at: admission@sgh.waw.pl.
Poland helps Ukraine
Polish authorities have launched an official site for information about available assistance and opportunities to provide assistance.
For several days now numerous organizations have been raising funds to help Ukraine:
The following is a list of Ukrainian organizations accepting donations:
Polish academic community's voice against Russian invasion of Ukraine
Polish academic community has spoken in a determined voice against the Russian attack on Ukraine. "On the occasion of Russia's military aggression against Ukraine and the brutal violation of international treaties and standards followed by the civilized world, Polish academic community strongly condemns the attack on and violence against our neighbour," the statement reads. It expresses, "full solidarity with the entire Ukrainian nation and support for Ukraine as a sovereign state." "We declare all possible assistance in this difficult time. Simultaneously, we call upon the authorities of the Ministry of Education and Science to launch special measures, including regulatory measures, to assist Ukrainian academics, doctoral researchers, and students who wish to continue their activities in Polish institutions of learning. Polish academic community will with even more determination intensify and develop all forms of co-operation with our Ukrainian academic partners," it emphasizes.
The statement was signed by the President of the Conference of Rectors of Academic Schools in Poland (KRASP), Professor Arkadiusz Mężyk; Chair of the Central Council for Science and Higher Education (RGNiSW), Professor Marcin Pałys; President of Polish Academy of Sciences (PAN), Professor Jerzy Duszyński; President of the Conference of Rectors of Public Professional Schools (KRPSZ), Professor Dariusz Surowik; President of the Conference of Rectors of Polish Professional Schools (KRZSP), Professor Waldemar Tłokiński; President of the National Representation of Doctoral Students (KRD), Jarosław Olszewski; President of the Young Scientists Council, Dr Igor Kilanowski; and President of the Student Parliament of the Republic of Poland, Mateusz Grochowski.
Protests from the SGH academic community
On behalf of the Polish Branch of the International Law Association (ILA), its President, Professor Jerzy Menkes, has written a letter of support to the Ukrainian Branch and its President, Sergiy Meshcheriak. "In the face of further acts of armed aggression by Russia against Ukraine, we express solidarity with the Ukrainian people and support for Ukraine's right to independence and territorial integrity. We strongly oppose the crime of aggression and demand that its perpetrators be punished. We remind that the consequences of aggression — under international law — are void, including illegal occupation (...)," the letter states. "Russia's military aggression against the independence and territorial integrity of Ukraine violates the principles of the UN Charter and the OSCE (editor's note: Organization for Security and Co-operation in Europe), other international obligations, as well as principles established among civilized nations based on the laws of humanity and the requirements of public conscience. "
The SGH Academic Council for Political and Administrative Sciences has expressed, "solidarity with the Ukrainian nation in connection with the armed aggression of the Russian Federation's regime against Ukraine" "As a community of those who dedicate their academic lives to the study of political phenomena, we voice our firm opposition to the politics of violence and armed aggression. International relations should be grounded in respect for human rights and international law," it emphasized. "We are convinced that the best solution to conflicts is dialogue and that human life is the highest value, in defence of which the efforts ought never to cease. In this difficult time we call for actions in the spirit of the utmost respect for it."
Voices of protest also come from Russia
Russian intellectuals, scientists, academics, experts and journalists also have spoken on the Russian invasion of Ukraine.
In a joint letter by representatives of the science community, published on Radio Echo of Moscow's portal, we read: "We, Russian academics and Russian academic journalists, protest against the military operations initiated by the armed forces of our country in Ukraine. That deleterious step leads to an enormous loss of human life and undermines the foundations of the established global security system. The responsibility for wreaking a new war in Europe rests wholly on Russia."
"In starting the war, Russia has condemned itself to international isolation and the role of a country of pariahs. This means that we, academics, will no longer be able to do our work; no academic research is conceivable outside of full co-operation with our colleagues from other countries. Isolating Russia from the world means continued cultural and technological degradation for our country, with no positive outlooks. The war with Ukraine is a step to nowhere," the letter concludes. "We demand the immediate cessation of all hostilities against Ukraine. We demand respect for the sovereignty and territorial integrity of the Ukrainian state. We demand peace for our countries. Let's make science, not war."
By initiative of the Kommersant journalist, Elena Chernenko, an open letter has been signed by several hundred signatories. "We, correspondents of Russian media, and experts writing about Russia's foreign policy, condemn the military operation commenced by the Russian Federation against Ukraine. War has never been and will never be a method of conflict resolution, and there is no justification for it."