SGH gospodarzem finału Rankingu Liceów i Techników Perspektywy 2021
09.03.2021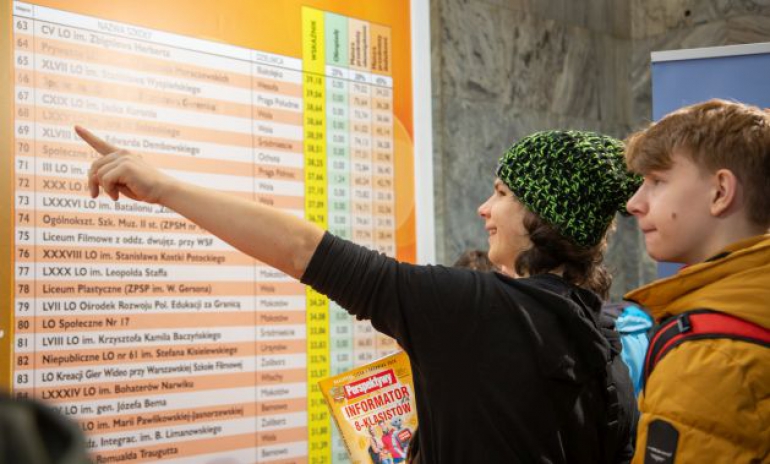 Już po raz drugi z rzędu SGH była gospodarzem Rankingu Liceów i Techników Perspektywy.
Rok temu była to tradycyjna uroczystość, na którą przyjechały setki uczniów i nauczycieli oraz dyrektorów szkół z całego kraju. Młodzi ludzie, spośród których wielu marzy o studiach w SGH, zwiedzali uczelnię i rozmawiali ze studentami. W tym roku, w dniu 27 stycznia, mogliśmy się spotkać tylko on-line, więc pokazaliśmy im naszą uczelnię… na odległość. Galę obserwowali: dyrektorzy szkół, nauczyciele, uczniowie, reprezentanci okręgowych komisji egzaminacyjnych, uczelni, kuratoriów oświaty, organów prowadzących szkoły. Jednak jak co roku, były wielkie emocje, niecierpliwe oczekiwanie na wyniki, a nawet wspólna fotografia uczestników na Zoomie.
Fundacja Edukacyjna "Perspektywy" przygotowała ranking, w którym prezentuje 1000 liceów i 500 techników, których uczniowie osiągnęli w roku szkolnym 2019/2020 najlepsze wyniki z egzaminów maturalnych (w przypadku techników – również z egzaminów zawodowych), a także odnieśli znaczące sukcesy w ogólnopolskich i międzynarodowych olimpiadach przedmiotowych. To 23. edycja tego cenionego w całym kraju rankingu. Tegorocznymi triumfatorami są XIV LO im. Stanisława Staszica w Warszawie i Technikum Mechatroniczne nr 1 w Warszawie.  Zaszczyt ogłoszenia trzech najlepszych techników i liceów w 2021 r. przypadł rektorowi SGH, który pogratulował "na żywo" dyrektorom zwycięskich szkół: Reginie Lewkowicz (XIV LO) i Sławomirowi Kasprzakowi (Technikum Mechatroniczne nr 7).
Choć uroczystość odbywała się on-line, nie zabrakło tradycyjnych punktów programu: wspólnego zdjęcia i piosenki We are the Champions dla najlepszych szkół, które nawet w trudnym dla wszystkich pandemicznym roku okazały się mistrzami.
Gratulacje należą się całym społecznościom szkolnym, przede wszystkim zaś nauczycielom i dyrektorom szkół, którzy w trudnym pandemicznym czasie poradzili sobie znakomicie, organizując kształcenie zdalne – dr hab. Piotr Wachowiak, prof. SGH, rektor Szkoły Głównej Handlowej w Warszawie