World Refugee Day online panel discussion: "The humanitarian crisis in Ukraine and academia – state of play and the role of the Polish-Ukrainian cooperation"
On the occasion of the World Refugee Day, SGH Rector's Representative on cooperation with Ukrainian universities organizes a panel discussion dedicated to the situation of academic refugees, both in individual and institutional dimensions, as well as to the consequences of the military aggression of the Russian Federation against Ukraine for the higher education and research sector. Panelists will address the topic of war and academia from different perspectives and discuss the role of the universities in the crisis and war times, through the lenses of teaching, research and social mission. Participants will refer to the situation of humanitarian crisis and academic refugees in their receiving communities and the challenges for displaced and damaged institutions, and will share their lessons learnt on how to relaunch a university in a new place or recover its facilities.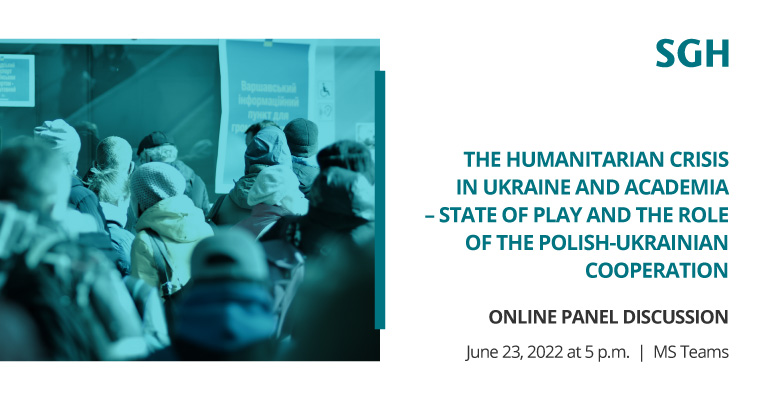 Live at 5 p.m, 23rd of June, 2022 via Microsoft Teams.
The discussion will be held in English
Moderator:
dr Iryna Degtyarova, SGH Rector's Representative on cooperation with Ukrainian universities 
The panelists: 
dr Yuliia Ovchynnykova, Member of Ukrainian Parliament, member of the Ukrainian delegation in the Parliamentary Assembly of Council of Europe and Parliamentary Ukraine-EU delegation
dr Anton Panteleimonov, vice-rector of V.V. Karazin Kharkiv National University
prof. Olesya Vashchuk, chairman of the Council of Young Scientists under the Ministry of Education and Science of Ukraine, Charity fund "Human" 
prof. Yevheniia Polishchuk, vice-chairman of the Council of Young Scientists under the Ministry of Education and Science of Ukraine, Vadym Hetman Kyiv National Economic University 
Concluding remarks:
dr Marta Pachocka, assistant professor at the Department of Political Studies, SGH Warsaw School of Economics
 
Organizator
SGH Warsaw School of Economics